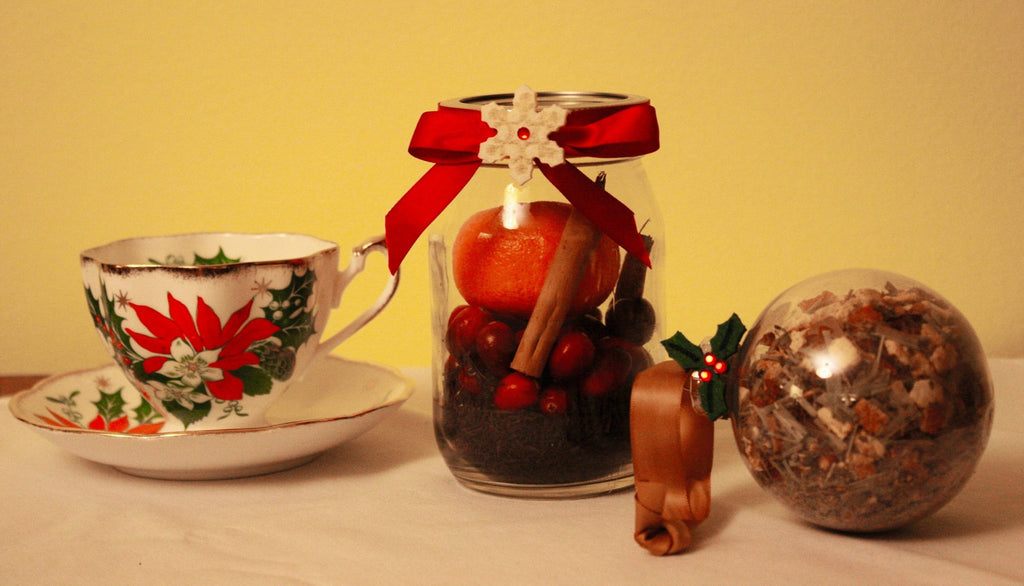 Holiday Gift Guide
With the holidays fast approaching we've come up with a holiday gift guide that is sure to WOW that special tea lover on your gift giving list this year! We've compiled some of the best holiday teas, gifts, accessories and experiences that you can find in the Ottawa area that are sure to tickle the fancy of any tea fan on your list! From holiday tea blends to afternoons out and subscription gifts that keep on giving throughout the year, you're sure to find the perfect gift!
Holiday Inspired Tea Blends
Company: Queen of Tea
Name: Candy Cane Kringle
Price: 50g $8
Ingredients: Peppermint, Spearmint, Candy Cane Pieces, Candy Cane Quins

This tea combines peppermint and spearmint with the sweetness of candy cane to create a whimsical holiday blend that will satisfy the yuletide cravings of both young and old!
Company: Tealee
Name: O Christmas Tea
Price: 50g $7 
Ingredients: Organic Pai Mu Tan White Tea, Cinnamon, Elderberries
This seasonal tea is bound to get you into the Christmas spirit! A calming white tea with a little spicy cinnamon kick and a delicious hint of berry to tie it all together. You will definitely want to add this tea blend to your Christmas list!


C
ompany: Tea Store
Name: Gingerbread Blend
Price: 100g $9.50 
Just like the cookies, this tea has great ginger taste with hints of vanilla and cinnamon.
Company: Shanti Tea
Name: Sita Chai
Price: 100g $11.95
Ingredients: Organic black tea, organic cinnamon, organic cacao nibs, organic cardamom, organic cloves, organic anise, organic rooibos, natural essences

A light chai with soft cinnamon chocolate undertones and a perfect blend of sweetness and spice. The addition of rooibos mellows out the strong black tea and delivers a coppery infusion with a seductive and inviting aroma.
Tea Gift Sets

Company: Tealee
Item: Holiday Tea Box
Price: $22
Give the gift of Tealee teas with these five fun little test tubes. They include our four best selling teas and our brand new Christmas white tea blend. This is a great gift for any new or experience tea drinker.
This gift set includes 20 paper tea filters and the following teas:
- O Christmas Tea
- Cool Raspberry Mint
- Apple Cinnamon Oolong
- Zesty Earl
- Rooibos Spice
Company: Tease Tea
Item: Holiday Trio
Price: $22
Enjoy all three of our top holiday blends and our signature infuser in this set: Holiday Harmony, Santa Baby & Gingerbread Spice
 Teaware/Accessories
Company: The Tea Store (Byward Market)
Item: Cast Iron Tea Pot and Cups
Price: $50/Pot and $9/Cup


Company: Tealee
Item: Snowy Mugs
Price: $20
One-of-a-kind, locally handcrafted mugs. These products are dishwasher and microwave safe.


Tea Experiences
Company: The Tea Party Café
Event: Afternoon Tea 
Price: $15 - $22 per person
 " We are starting to plan a Holiday Tea. We are going to serve a traditional holiday tea for the month of December. Book a table now, daily from 12-5pm. As usual, it's very affordable at $15 per person." - The Tea Party Cafe
Company: Nectar Fine Teas 
Event: Afternoon Tea 
Price: $23.95 per person

A highlight of our expanded space is our much loved Full Afternoon Tea Service, which increases in popularity every year. It is a set menu served in 3 courses starting with a refreshing fruit cup, which is tossed in a jasmine-lime tea syrup. This is followed by a soup sipper, after which we bring you your tea of choice from our premium loose leaf tea selection, quickly followed by the 3 tiered tea tray with all of the goodies: 4 pillowy soft tea sandwiches, 2 homemade crème-fraîche scones fresh from the oven with real clotted cream & jam, a Nectar-tea-infused truffle by Truffle Treasures, and a tangy lemon curd tart.

Company: The Vanitea Room
Event: Afternoon Tea 
Price: $40 per person


Tea Subscriptions
Company: Tea by G
Item: Tea of the Month Club
Price: $39 
Receive 20g of tea each month for 6 months.
Company: Jalam Tea
Item: Tea of the Month Club
Price: $19/month
Experience a different Pu'erh cake each month.
Company: Tease Tea
Item: Tease of the Month Club
Price: $19/month

We are thrilled to launch our subscription based "Tease of the Month" club !  An effortless yet thoughtful gift for anyone that keeps on giving. Starting at $19.00 a month (including taxes & shipping!) tea lovers will receive three packages of specially curated and blended teas (which will make up to 30 cups of tea), plus a few little extra's if you choose to be a part of our classic or platinum club.