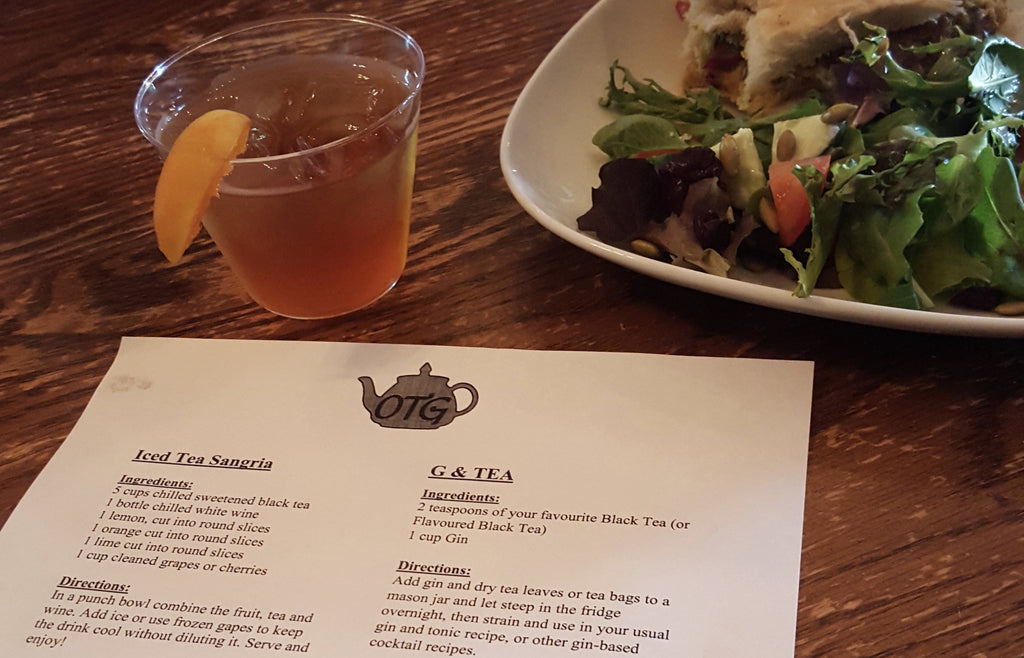 We beat the heat with some refreshing tea treats at our July tea and cocktail event. We had great attendance and everyone enjoyed the variety of drinks we sampled. We partnered with The Tea Party Café for this event, which features a Peach Tea Cocktail and a Bourbon based tea cocktail that packs a delightful punch. Next time you visit them we suggest you try one. In addition to the Tea Party's cocktail offerings we created a Gin infused tea cocktail and a Lapsang Souchong Caesar with an amazing smokiness that brought the drink to the next level!

Whether you're mixing drinks using tea as a base, accent flavour, or infusing your alcohol with tea there's a cocktail out there for everyone! We've got some great recipes here including the two that we created for the workshop, so we hope you enjoy the warm weather we've been having by sipping on one of these while relaxing in the shade!
Iced Tea Sangria
Ingredients:
5 cups chilled sweetened black tea
1 bottle chilled white wine
1 lemon, cut into round slices
1 orange cut into round slices
1 lime cut into round slices
1 cup cleaned grapes or cherries


Directions:
In a punch bowl combine the fruit, tea and wine. Add ice or use frozen gapes to keep the drink cool without diluting it. Serve and enjoy!
Earl Grey Tea Shandy
Ingredients:
8oz Iced Earl Grey Tea
8oz Chilled Beer (Lagers, Pilsners and Blondes work best for this)

Directions:
To prepare the tea steep 2 tea bags or 2 teaspoons of loose leaf Earl Grey tea to 8oz boiling water and steep for 5 minutes. Once steeped strain or remove the tea bags and allow to cool in the fridge.
In a glass combine 4oz of iced tea 4oz of chilled beer, garnish with a slice of lemon or mint sprig if desired and enjoy!
G & TEA
Ingredients:
2 teaspoons of your favourite Black Tea (or Flavoured Black Tea)
1 cup Gin

Directions:
Add gin and dry tea leaves or tea bags to a mason jar and let steep in the fridge overnight, then strain and use in your usual gin and tonic recipe, or other gin-based cocktail recipes.
Lapsang Caesar
Ingredients:
1 oz. Lapsang infused Vodka
6 oz Clamato
3 dashes Tabasco sauce
3 dashes of Worcestershire

Directions:
To make the Vodka, steep 2-3 teaspoons of Lapsang Souchong in 1 cup of Vodka over night. Rim a glass with celery salt and fill with ice. Add Vodka and top with Clamato. Stir in Tabasco, celery salt, and Worcestershire. Serve and enjoy!


As always we love to collaborate with local businesses, so if you're reading this and have an idea for something you'd like to do with us please send us an email at info@ottawateaguild.com